Vegan 'Cheats' Trifle with Banana and Berries
One thing we love more than banana recipes are easy banana recipes. With simple pantry ingredients plus a packet of vegan cookies (yep, that easy!), make this your go-to potluck dessert. All-vegan, all-delicious and All Good, these little trifles are served in their very own pots so you don't even have to share.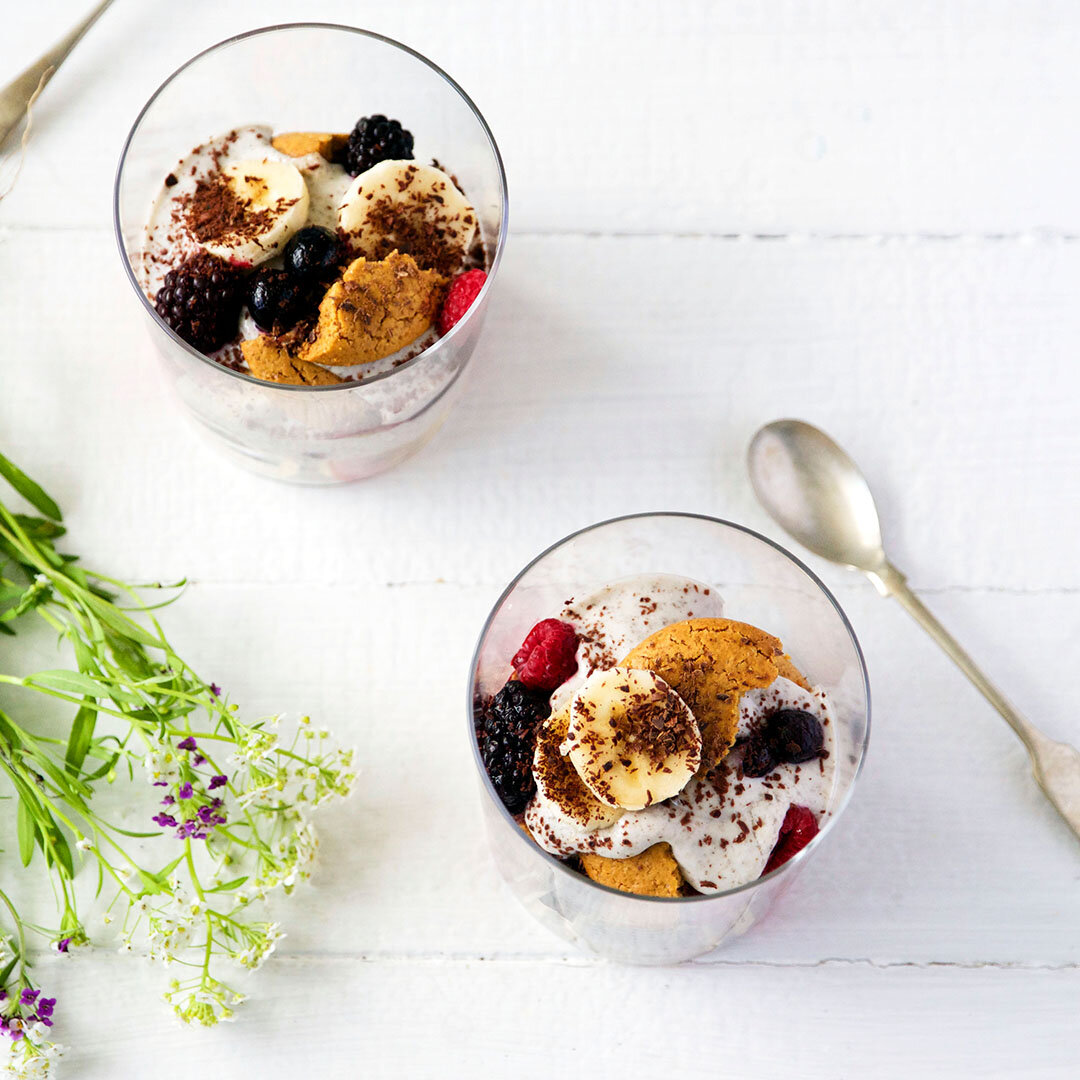 2 cans full-fat coconut cream
3 tablespoons chia seeds
1 teaspoons vanilla essence
4 tablespoons maple syrup
2 All Good bananas – peeled and sliced
Juice of 1 lemon
16 – 20 vegan cookies (I used a ginger cookie but any flavour will work)
2 cups berries (fresh or thawed if using frozen)
To serve: grated dark chocolate

METHOD
Place the coconut cream, chia seeds, vanilla essence and maple syrup in a blender. Blitz until as smooth as possible. Place in the fridge for 30-60 minutes to thicken.
Just before assembling the dessert, toss the banana slices gently in the lemon juice to prevent browning. Drain excess juice away.
To Assemble
Use 4 small dishes or glasses. I like glasses as they show the layers. Break each cookie into 2-4 pieces (this does not have to be perfect!). Place a few pieces in the bottom of each glass. Place banana slices around the base of the glass. Top cookies with a few berries and a generous dollop of coconut chia cream. Repeat these layers until you've filled the glasses. Top with a banana slice, a berry. Place in the fridge for at least 1 hour (or up to 3 hours). Top with grated dark chocolate just before serving.
We're always on the hunt for inspiration to keep banana loving monkeys happy. So, we asked Kelly Gibney to help us out. Kelly is a wholefoods writer and Dish magazine columnist, and we're so pleased to be able to share her recipes with you.